Avel Leather Care Products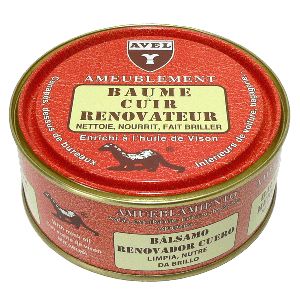 Advanced Formulas Backed By 100 Years of Tradition
When Alexander Moura founded his company in 1977 he knew one thing for certain. The products would feature and develop must be the best available in the world. He also intended that the company be a legacy for his family, with the production unit located in beautiful southwest France, in the Cognac area.
In addition to developing its own brand Avel has been uncompromising in its acquisition of time-honored products from the best companies in France. Breathing new life into names that had meant the highest quality for more than a century means Avel extends the best in metal, tile and wood care into the hands of those who demand the finest for their homes and possessions.
And leather -- Avel has made wonderful, nourishing care products for leather available worldwide over more than 30 years. Valentino Garemi is proud to be part of this global revolution, offering these effective high quality leather products to the Canadian and greater North American market. This opportunity is a unique one with leather care products that are truly superior to those commonly available elsewhere.
The inferior products one can find at the discount and grocery stores or even in leather shops pale in comparison to the Avel offers at Valentino Garemi. Pure and natural ingredients that improve leathers are instantly appreciated by the discerning customers seeking out the superb leather care supplies we have on display 24 hours a day, 7 days a week in our leather and foot care web store.
Premium leather care options sourced from Avel stocked at Valentino Garemi include the Saphir and Saphir Medaille D'or 1925 ranges, leather cleaning, conditioning and polishing products that received some of the highest praise and important awards over the past 100 years. The Avel Company recognized the natural and efficacious formulas developed over the years by Saphir needed a to be shared with a new market of intelligent consumers on this side of the Atlantic. We are privileged to be part of that effort and are among the first North American suppliers of these amazing products.
Avel has also taken the lessons learned from the Saphir Line and refined and improved upon them with its own Avel line of luxury leather care products. We have included many of the Avel branded leather care solutions on our online leather care web site and invite those who understand the need for the best in leather products to browse the range. Cleansers, conditioners, revitalizers, polishes and protectants are all here, under the Avel name as well as the venerated Saphir lines.
Take a look at what Avel and Saphir have to offer the savvy consumer. We welcome any questions about the products as we have a deep knowledge of the range. Chances are great that you will find exactly the leather care products you deserve for your valued footwear, bags, furniture and other items within the Avel lines here at Valentino Garemi.