Saphir Renovateur Medaille D'Or 1925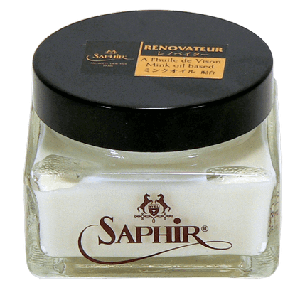 Saphir Renovateur Medaille D'Or 1925
One product every leather care collection needs is Saphir Renovateur Medaille D'Or 1925 (Renovator), the amazing French all-in-one formulation. This colorless cream is equally effective as a cleaner and a conditioner. Even more impressive, the one step cleaning and conditioning is followed by an impressive shine created without additional products.
Cleanser
Dissolving excess pigments and lifting away soil and grime, Saphir Renovateur may be the only leather cleaner you need. The soft cream is easy to apply and gets wot work immediately, a perfect one step deep cleaner. Leather cleaned with any of the Renovateur products is ready for application of pigmented polishes and other leather beautification options, the leather clear of dirt and staining, pores open, breathing like this fine natural material should.
Conditioning
The rich oils and waxes of Saphir Renovateur include shea butter, ox-foot oil, lanolin, carnauba wax and beeswax as well as mink oil. This luxurious combination of natural ingredients penetrates and revitalizes even dried, abused leather, restoring suppleness and maintaining essential moisture.
Polishing
Keeps leather glowing when Renovateur is used as a soft polish. In between intensive polishing treatments the original or Medaille D'Or 1925, handy for traveling, provides the base for a wonderful shine.