Living a healthy and productive life requires careful 
foot care
 for diabetics, and the summer presents special challenges for those diagnosed with this condition. Because the circulation of blood to the hands and feet can be compromised for those with diabetes, nerve damage can occur, making it difficult for the person to feel pain and attend to injuries to the extremities. Foot Care Products for Diabetics at Valentino Garemi                                                        Browse the pages of our foot care and treatment solutions and you will find a large number of formulations made specifically for those dealing with diabetes or for use by all, but tested and found appropriate to apply when diabetes is present. Follow the above tips and invest in high quality diabetic foot care products from our Canadian online store. You will be ready to jump right in and have a great time this summer.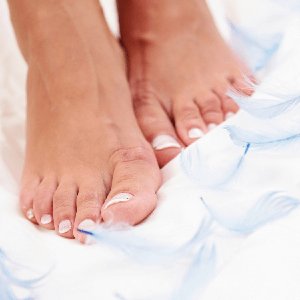 Fortunately for your forgotten feet we have just added the 
Camillen 60
 range to our foot care options. Once the bacterial and fungal infections are under control, continue to use Camillen products such as their signature Foot Balm to moisturize and condition feet, while the chamomile oil or extract in every Camillen 60 formula inhibits future microbial growth. Hearken to the herbal healing of chamomile and other helpful botanicals in the Camillen 60 product range, proving that natural foot care is preferred and sustainable, for the planet and for your aching feet.